It is impossible to arrive at any understanding of Kaifi Azmi, unless you include his work for MIJWAN, the tiny village in AZAMGARH where he was born and has decided to spend the rest of his life.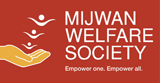 He was a rare poet who practiced what he preached. For the last twenty years of his life Kaifi Azmi lived in Mijwan, the tiny village in Uttar Pradesh he was born in. In a span of 20 years he transformed Mijwan from a village in oblivion to a model village. He set up an NGO Mijwan Welfare Society that runs:
Kaifi Azmi Higher Secondary School for girls
Kaifi Azmi Inter-College for girls
Kaifi Azmi Computer Training Centre
Kaifi Azmi Embroidery and Sewing Centre for Women.
In recognition of his efforts as a catalyst for social change, the U.P. Govt. named the road leading to Mijwan Kaifi Azmi Road and the Highway from Sultanpur to Phulpur the Kaifi Azmi Highway.
The government of India has named the train from Delhi to Azamgarh "Kaifiyaat Express" in recognition of his contribution to society.
In a period of 15 years, he single handedly transformed Mijwan, a village frozen in time to a model village.