Kaifi Azmi had very deep rooted connections with the city of Hyderabad because it was the citadel of the Progressive Writers Movement and the custodian of the Urdu language. Hyderabad was famous for its Ganga Jamuni Tehzeeb, its composite culture and pluralism which are India's greatest strengths. Grand mushairas and gatherings of great intellectuals were a common occurence in Hyderabad.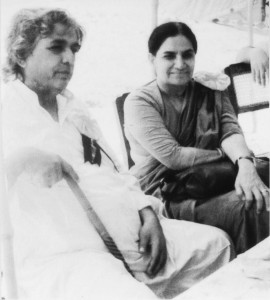 In February 1947 the Progressive Writers Conference took place in Hyderabad in which giants of Urdu literature such as Makhdoom Moiuddin, Ali Sardar Jafri, Majrooh Sultanpuri and Kaifi Azmi participated. Later that evening a mushaira was held at Akhtar Hassan's house who was the editor of the progressive Urdu paper 'Payam'. It was here that Kaifi Azmi made his mark as a revolutionary poet with his poems 'Taj' and 'Aurat'. It was also here that he met Shaukat Khanam who 3 months later became his wife.
The Communist Party was banned and Kaifi used to be underground for most of the period after his marriage. Shaukat stayed with her parents in Malle Palli and their first born son Khayyam who unfortunately passed away at the age of one was born in her parents home. In 1950 famous actress Shabana Azmi , their second child was also born in Hyderabad.
Kaifi's roots with Hyderabad remained strong and he regularly gave talks at the Womens College, Nizam College and Osmania Unversity apart from participating in countless mushairas. He was Hyderabad's damaad who with the passing of time became more of a son.
It is in the fitness of things that this great Freedom Fighter and Urdu poet, feted and felicitated all over the country is given due recognition in Hyderabad, a city he loved.
On the occasion of his 90th birthday on 14th January 2012 a Yaad-e-Kaifi Festival is bein held in which there will be a staging of Kaifi Aur Main written by Javed Akhtar and directed by Ramesh Talwar. Produced by IPTA, it stars Shabana Azmi as Shaukat and Javed Akhtar as Kaifi. It also has live music by talented singer Jaswinder Singh.
There will also be a seminar followed by an Indo Pak Mushaira. But most important of all is the installation of a statue of Kaifi Azmi for which processes are under way.