It gives us great pleasure to inform you that 14th January 2019 marks the birth centenary of Kaifi Azmi Saheb. We are having yearlong celebrations in the country and abroad with mushairas, plays, seminars, a pen festival where 100 pens named after Kaifi Saheb will be released, our annual Mijwan Fashion Show by Manish Malhotra and three book releases of his poetry translated into English plus a documentary called Kaifinaama directed by Sumantra Ghosal http://saloconsulting.se/map192.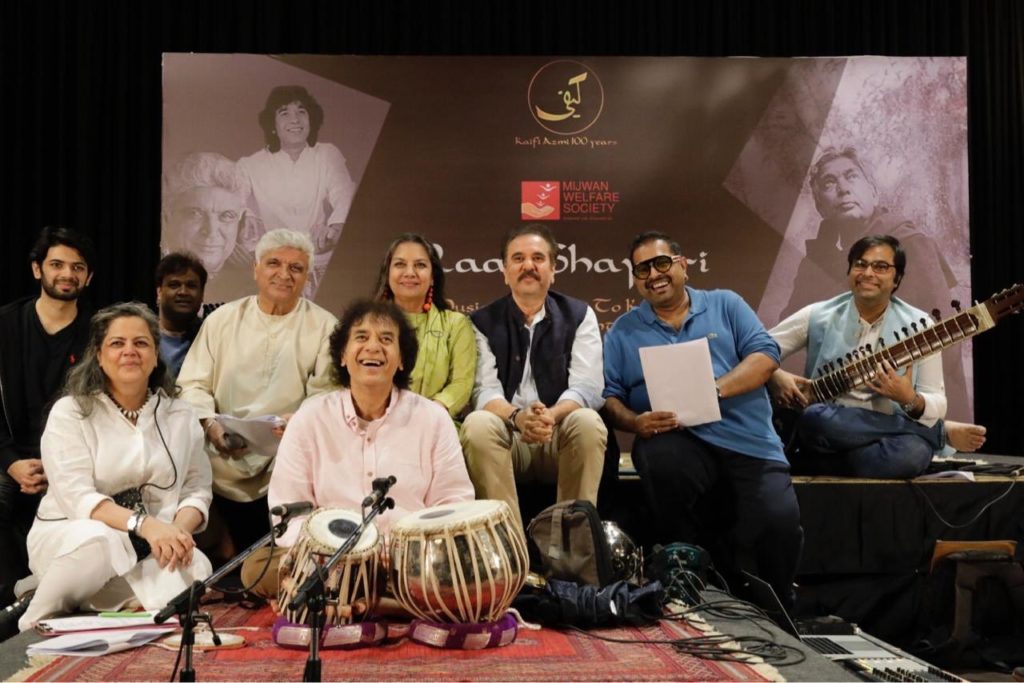 The premier show RAAG SHAYARI is a special evening of music and Kaifi Saheb's poetry conceived by Javed Akhtar, starring Ustad Zakir Hussain, Shankar Mahadevan, Javed Akhtar and Shabana Azmi, directed by Feroz Abbas Khan with Production Design by Anuradha Parikh. It runs for 90 minutes without an interval here.
The first performance is on Sunday 13th January 2019 and is being presented by Tata Theatre NCPA more info.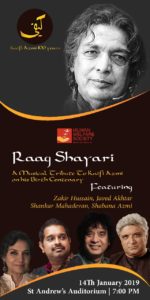 Mijwan Welfare Society the NGO founded by my father Kaifi Azmi for the empowerment of the girlchild and women in rural India which Shabana Azmi now heads along with Namrata Goyal, is presenting it on his birthday 14th January 2019 at St Andrews Auditorium Bandra Mumbai.
click at this page I am very grateful to the artists Zakir Hussain and Shankar Mahadevan, the Production Designer Anuradha Parikh who the owner of G5A and for director Feroz Abbas Khan is coming on board no questions asked. And above all to Javed Akhtar for conceiving and putting together what I believe will be one of a kind shows that will have archival value.
http://draucayali.gob.pe/mapca1 Shankar will sing poems of Kaifi, Javed will recite them in Urdu, Shabana will read the English translations and Ustad Zakir Hussain will interpret them on the tabla. The show runs for 90 minutes without an interval.
Zakir Hussains father Ustad Allah Rakha and Kaifi had worked together and were good friends. Shankar Mahadevan cut his first single Breathless written by Javed Akhtar http://sarososgb.com.tr/map192.
read article Feroz Abbas Khan directed the iconic play Tumhari Amrita with Farooque Shaikh and Shabana Azmi which ran for 21 years.
see more Anuradha Parikh and Shabana have been close friends for over 30 years.Getting the team to agree was easy but given everybody's crazy schedules getting them together for rehearsals was like weighing frogs in a bucket! But their mastery over their craft and their total commitment to honour Kaifi Sb is what will make this an experience to cherish.
Calendar of events
Soft opening 4th Jan Bazm: Jashn e Ghazal a tribute to Kaifi Azmi at Kamani Auditorium New Delhi

8th Jan seminar by Delhi Urdu Akademi on Kaifi Azmi and the tradition of Protest Poetry in Urdu at Kamani Auditorium New Delhi at 11 am. A monograph on Kaifi by Prof AA Fatimi of Allahabad University will be released followed by a mushaira Jashn e Kaifi in the evening at the same venue.

Kaifi Aur Main a theatrical experience based on Shaukat Kaifi's memoirs Yaad Ki Rahguzar written by Javed Akhtar directed by Ramesh Talwar starring Javed Akhtar as Kaifi Azmi and Shabana Azmi as her mother Shaukat Kaifi with live singing by ghazal maestro Jaswinder Singh produced by IPTA. This is being presented at Kamani auditorium New Delhi by cultural dept of Delhi Govt.
11th Jan an informal and intimate evening of music at Kaifi's home 25 Janki Kutir Mumbai, presented as an annual event by his son Baba Azmi. A calendar on Kaifi Sb will also be released
A mushaira dedicated to Kaifi ,Yaad E Kaifi presented by Nehru Centre Mumbai 7 pm onwards on 11th Jan
Raag Shayari presented by Tata Theatre NCPA on sun 13th Jan

Raag Shayari presented by Mijwan Welfare Society at St Andrews Auditorium Bandra Mumbai 7 pm on 14th Jan

16th Jan Kaifi Aur Main at Kala Mandir Kolkata
17th Jan (on Javed Sb's birthday) 3rd and final performance of Raag Shayari.
Kaifi Aur Main at IIT New Delhi
At Zee Jaipur Litfest
January 26th

Jan Nisar and Kaifi
Javed Akhtar and Shabana Azmi in conversation with Pavan K. VarmaBook Release (Khaak e Dil) Ashes of the Heart translated by Pavan Verma and (Mera Maazi Mere Kaandhe Par) The Past on My Shoulders translated by Ali Husain Mir – a 2 volume set publd by Amazon Westand edited by Minakshi Thakur.India's iconic Bollywood couple, actor Shabana Azmi and poet and lyricist Javed Akhtar, carry poetry in their genes. Akhtar's father, the late Jan Nisar Akhtar, was a legendary Urdu poet. Azmi's father, the late Kaifi Azmi, was an enduring icon for generations of revolutionary poets. In an extraordinary session, Akhtar and Azmi celebrate this literary legacy, its impact on contemporary culture and the continuing traditions in Urdu literature. In conversation with writer and diplomat Pavan K. Varma, a session of readings and discussion.
For Abba, With Love
Shabana Azmi in conversation with Rakhshanda JalilShabana Azmi pays tribute to her "abba", the charismatic poet and social activist Kaifi Azmi. Kaifi, who belonged to the Progressive Writers Movement of India, brought his genius to Indian cinema and made it a credible platform for the best in Urdu poetry. In conversation with noted writer and translator Rakhshanda Jalil who has translated Kaifi's poems titled Kaifiyat  publd by Penguin edited by Shantanu Choudhury will be released. Shabana discusses her inspirational father and the many dimensions of his life and legacy.
A tribute to Kaifi Azmi – the man and his works on 27th Jan at Hyderabad Litfest.
Inauguration of Kaifi Kala Kendra a 300-seater theatre at Paper Mill Colony Lucknow Feb 16th
A Pen Festival dedicated to Kaifi Azmi at Nehru Centre Worli Mumbai on 2nd and 3rd February.

Release of documentary Kaifinaama directed by Sumantra Ghosal in March
Retrospective of Kaifi films Garm Hawa, Heer Ranjha (written entirely in verse) and Naseem in which he acted and Kaagaz ke Phool at 21st UK Asian Film Festival 25 -27th March in London
April – Mijwan Fashion Show by Manish Malhotra, date tbc
Retrospective of Kaifi's films at MAMI film festival, TBC
Faiz and Kaifi at Alchemy Festival London 6th April, TBC
AMU Mushaira in Washington DC Oct 19 dedicated to Kaifi
Nov Mushaira in Mijwan, Azamgarh and Lucknow
Mee Raqsam a feature film produced by Azmi Pictures Pvt Ltd and directed by Baba Azmi shot entirely in Kaifi's place of birth Mijwan, starring as its protagonist a 14-year-old resident of Mijwan, Aditi Suvedhi and Danish Hussain will be ready for release. Kaifi had once mentioned to his son in passing how nice it would be if a film could be made in Mijwan. In his birth centenary year, no, better tribute could Baba pay to his father Kaifi.
– Shabana Azmi
---
MORE EVENTS upcoming 
"Kaifi Aur Main" is a play so simple yet rich in its content, filled with pure wisdom to get inspired by. Based on Shaukat Kaifi's memoirs – Yaad Ki Rahguzar written by Javed Akhtar, the play summarizes everything about Kaifi, be it his 55-year-old romance with Shaukat— right from the time she met him as a young girl, till their last day together — or his progressive social ideas. The theatrical experience stars Javed Akhtar as Kaifi Azmi and Shabana Azmi as her mother, Shaukat Kaifi with live singing by ghazal maestro Jaswinder Singh, produced by the Indian People's Theatre Association at Kamani Auditorium, New Delhi, 6:30pm onwards.
"Between the pages of a book is a lovely place to be."
When authors finish their books, it is generally the end of a long journey:
seemingly unending edits and rewrites;
Just like that we have Minakshi Thakur with us who edited 2 books of Kaifi Azmi. These books are published on Westland Amazon. One of the books is Ashes of the Heart(Khaak-e-Dil). Second book is The Past on My Shoulder (Mera Maazi Mere Kaandhe Par)
The Book launch is on 25th of January at Diggi Palace at Jaipur ehich is organized by ZEE Jaipur Literature Festival 2019.
Baba says that it is great being Kaifi Azmi's son.
He says, "On the immigration counter at the airport or even in a small village,
people approach me and ask – Are you Kaifi Azmi's son? The warmth and the love in their eyes always overwhelms me."
A legend remains victorious in spite of history.
Kaifi Ki Yaad Mein is an upcoming event on 10th January, 2019 in Mumbai at Kaifi Azmi and Shaukat's home, 25 Janki Kutir.
It is an informal evening of music and poetry presented as an annual event by his son Baba Azmi. And a calendar on Kaifi will be released.
The lights dimmed, the crowd hushed and the curtains were drawn back-to witness theatre.
We are delighted to announce the Inauguration of 'Kaifi Kala Kendra' built in the honor of the legend Kaifi Azmi. Designed by the film director M.S. Sathyu, this auditorium is like no other in the whole of Lucknow. Built within the campus of All India Kaifi Azmi Akademi , with 300 seats, numerous green rooms and ample of stage space, this truly is an architectural masterpiece. The inaugural ceremony of the 'Kaifi Kala Kendra' is to take place on the 1st of March at 6 pm at Paper Mills Colony, Lucknow.
---
In News:
---
In Print Media:
---
In Social Media: