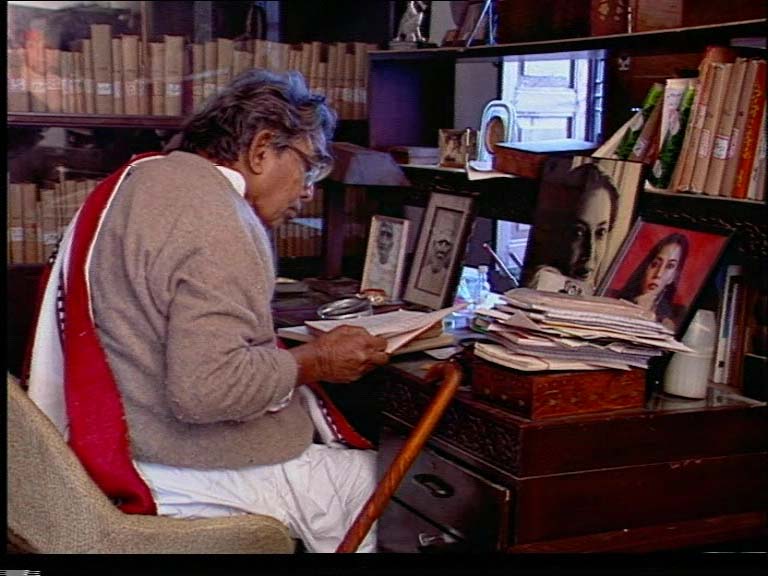 Film: Sone Ki Chidiya (1958)
मकान
आज की रात बहुत गर्म हवा चलती है
आज की रात न फ़ुटपाथ पे नींद आएगी
सब उठो, मैं भी उठूँ, तुम भी उठो, तुम भी उठो
कोई खिड़की इसी दीवार में खुल जाएगी
ये ज़मीन तब भी निगल लेने पे आमादा थी
पाँव जब टूटी शाख़ों से उतारे हम ने
इन मकानों को ख़बर है न मकीनों को ख़बर
उन दिनों की जो गुफ़ाओं में गुज़ारे हम ने
हाथ ढलते गये साँचे में तो थकते कैसे
नक़्श के बाद नये नक़्श निखारे हम ने
की ये दीवार बुलन्द, और बुलन्द, और बुलन्द
बाम-ओ-दर और ज़रा, और सँवारे हम ने
आँधियाँ तोड़ लिया करती थीं शमों की लौएं
जड़ दिये इस लिये बिजली के सितारे हम ने
बन गया क़स्र तो पहरे पे कोई बैठ गया
सो रहे ख़ाक पे हम शोरिश-ए-तामीर लिये
अपनी नस-नस में लिये मेहनत-ए-पैहम की थकन
बंद आँखों में इसी क़स्र की तस्वीर लिये
दिन पिघलता है इसी तरह सरों पर अब तक
रात आँखों में ख़टकती है स्याह तीर लिये
आज की रात बहुत गर्म हवा चलती है
आज की रात न फ़ुट-पाथ पे नींद आयेगी
सब उठो, मैं भी उठूँ, तुम भी उठो, तुम भी उठो
कोई खिड़की इसी दीवार में खुल जायेगी
House
Tonight a searingly hot breeze is blowing,
Tonight on this footpath there will be no sleep
Come let us arise, you and I, and you too, and you
A window in this wall will surely find an opening.
To swallow us this earth was even then waiting
When our feet touched the ground from branches breaking
These houses know nothing, those who live in them
Know nothing of the days we spent in caves hiding.
Our hands could not tire, they had become the mould
To make statue after statue for someone else to hold
We made the wall strong, stronger and stronger still
Embellished the roof, gave doorways a strength untold.
Because the wind could so easily extinguish the flame
We gilded the sky with electricity instead
When the palace was built, someone else sat on guard
In squalor we slept with cacophony our bed.
The fatigue of relentless labour in every vein
Images of the palace in our eyes remain
Unending, the day melts on our heads still
Our unslept nights remain just the same.

مکان
آج کی رات بہت گرم ہوا چلتی ہے
آج کی رات نہ فٹ پاتھ پہ نیند آئے گی
سب اٹھو ، میں بھی اٹھوں ، تم بھی اٹھو
کوئی کھڑکی اسی دیوار میں کھل جائے گی
یہ زمیں تب بھی نگل لینے میں آمادہ تھی
پاؤں جب ٹوٹتی شاخوں سے اتارے ہم نے
ان مکانوں میں خبر ہے نہ مکینوں کو خبر
ان دنوں کی جوگپھاؤں میں گزارے ہم نے
ہاتھ ڈھلتے گئے سانچے میں تو تھکتے کیسے
نقش کے بعد نئے نقش نکھارے ہم نے
کہ یہ دیوار بلند اور بلند اور بلند
بام و در اور ذرا اور سنوارے ہم نے
آندھیاں توڑ لیا کرتی تھیں شمعوں کی لوئیں
جڑ دیئے اس لئے بجلی کے ستارے ہم نے
بن گیا قصر تو پہرے پہ کوئی بیٹھ گیا
سو رہے خاک پہ ہم شورش تعمیر لئے
اپنی نس نس میں لئے محنت پیہم کی تھکن
بند آنکھوں میں اسی قصر کی تصویر لئے
دن پگھتا ہے اسی طرح سروں پر اب تک
رات آنکھوں میں کھٹکتی ہے سیاہ تیر لئے
آج کی رات بہت گرم ہوا چلتی ہے
آج کی رات نہ  فٹ پاتھ پہ نیند آئے گی
سب اٹھو ، میں بھی اٹھوں،تم بھی اٹھو، تم بھی اٹھو
کوئی کھڑکی اسی دیوار میں کھل جائے گی
House – मकान