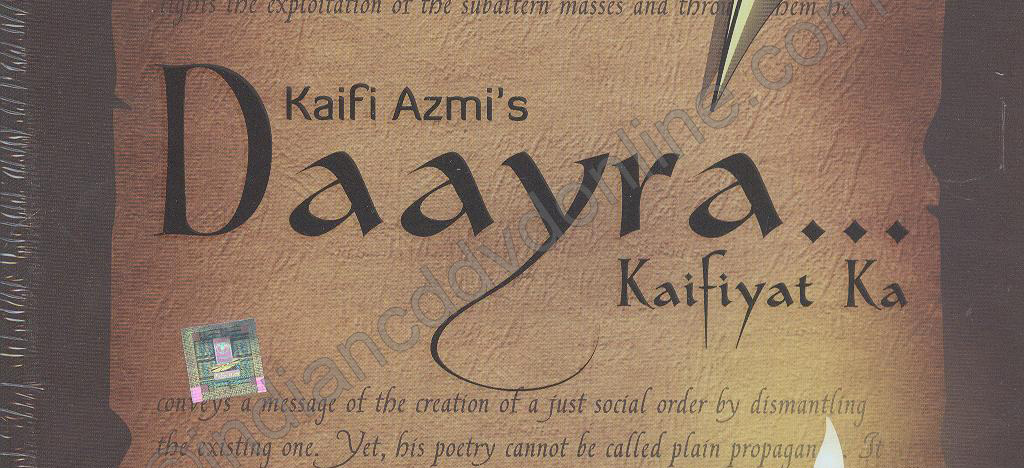 दायरा
रोज़ बढ़ता हूँ जहाँ से आगे
फिर वहीं लौट के आ जाता हूँ
बारहा तोड़ चुका हूँ जिन को
इन्हीं दीवारों से टकराता हूँ
रोज़ बसते हैं कई शहर नये
रोज़ धरती में समा जाते हैं
ज़लज़लों में थी ज़रा सी गिरह
वो भी अब रोज़ ही आ जाते हैं
जिस्म से रूह तलक रेत ही रेत
न कहीं धूप न साया न सराब
कितने अरमाँ है किस सहरा में
कौन रखता है मज़ारों का हिसाब
नफ़्ज़ बुझती भी भड़कती भी है
दिल का मामूल है घबराना भी
रात अँधेरे ने अँधेरे से कहा
इक आदत है जिये जाना भी
क़ौस एक रंग की होती है तुलू'अ
एक ही चाल भी पैमाना भी
गोशे गोशे में खड़ी है मस्जिद
मुश्किल क्या हो गई मयख़ाने की
कोई कहता था समंदर हूँ मैं
और मेरी जेब में क़तरा भी नहीं
ख़ैरियत अपनी लिखा करता हूँ
अब तो तक़दीर में ख़तरा भी नहीं
अपने हाथों को पढ़ा करता हूँ
कभी क़ुरान कभी गीता की तरह
चंद रेखाओं में समाऊँ मैं
ज़िन्दगी क़ैद है सीता की तरह
राम कब लौटेंगे मालूम नहीं
काश रावन ही कोई आ जाता

Daayra
Everyday from where I go ahead
I come back to the same spot again,
The walls I have broken so many times
Are the walls I strike all over again,
Everyday new towns come into being
Everyday the earth subsumes them again,
Earthquakes at least had a heat of their own
Now they just recur over and again.
From the body to the soul an endless desert
No sun, no mirage, no shade,
So many hopes have perished in the desert waste
Who cares a damn for the grave,
The pulse dies and flutters again
The heart's natural attribute is anxiety,
At night the night whispered to itselt
To go on living is a habit in itself.
A rainbow is a bouquet of but one colour
A goblet has its own trajectory,
If mosques begin to stand at every corner
What can the shape of the tavern be?
Somebody used to say he is the ocean itself
When not even a drop was with me,
Now I write to all that I'm fine
Now danger too is absent for my destiny,
I read the lines on my palm
Like I would the Koran or the Gita,
In the confines of a few lines
My life is imprisoned like Sita,
When Rama will return I cannot say
If only some Ravana would come and stay.

دائرہ
روز بڑھتا ہوں جہاں سے آگے
پھر وہیں لوٹ کے آجاتا ہوں
بارہا توڑ چکا ہوں جن کو
انہیں دیوار وں سے ٹکراتاہوں
روز بستے ہیں کئی شہر نئے
روز دھرتی میں سما جاتے ہیں
زلزلوں میں تھی زرا سی گرمی
وہ بھی اب روز ہی آجاتے ہیں
جسم سے روح تلک ریت ہی ریت
نہ کہیں دھوپ نہ سایہ نہ سراب
کتنے ارمان ہیں کس صحرا میں
کون رکھتا ہے مزاروں کا حساب
نبض بجھتی بھی بھڑکتی بھی ہے
دل کا معمول ہے گھبرانا بھی
رات اندھیرے نے اندھیرے سے کہا
ایک عادت ہے جئے جانا بھی
قوس ایک رنگ کی ہوتی ہے طلوع
اک ہی چال بھی پیمانے کی
گوشے گوشے میں کھڑی ہے مسجد
شکل کیا ہوگئی مے خانے کی
کوئی کہتا تھا سمندر ہوں میں
اور میری جیب میں قطرہ بھی نہیں
خیریت اپنی لکھا کرتا ہوں
اب تو تقدیر میں خطرہ بھی نہیں
اپنے ہاتھوں کو پڑھا کرتا ہوں
کبھی قرآن کبھی گیتا کی طرح
چند ریکھاؤں میں سیماؤں میں
زندگی قید ہے سیتا کی طرح
رام کب لوٹیں گے معلوم نہیں
کاش راون ہی کوئی آجاتا
Circle – दायरा