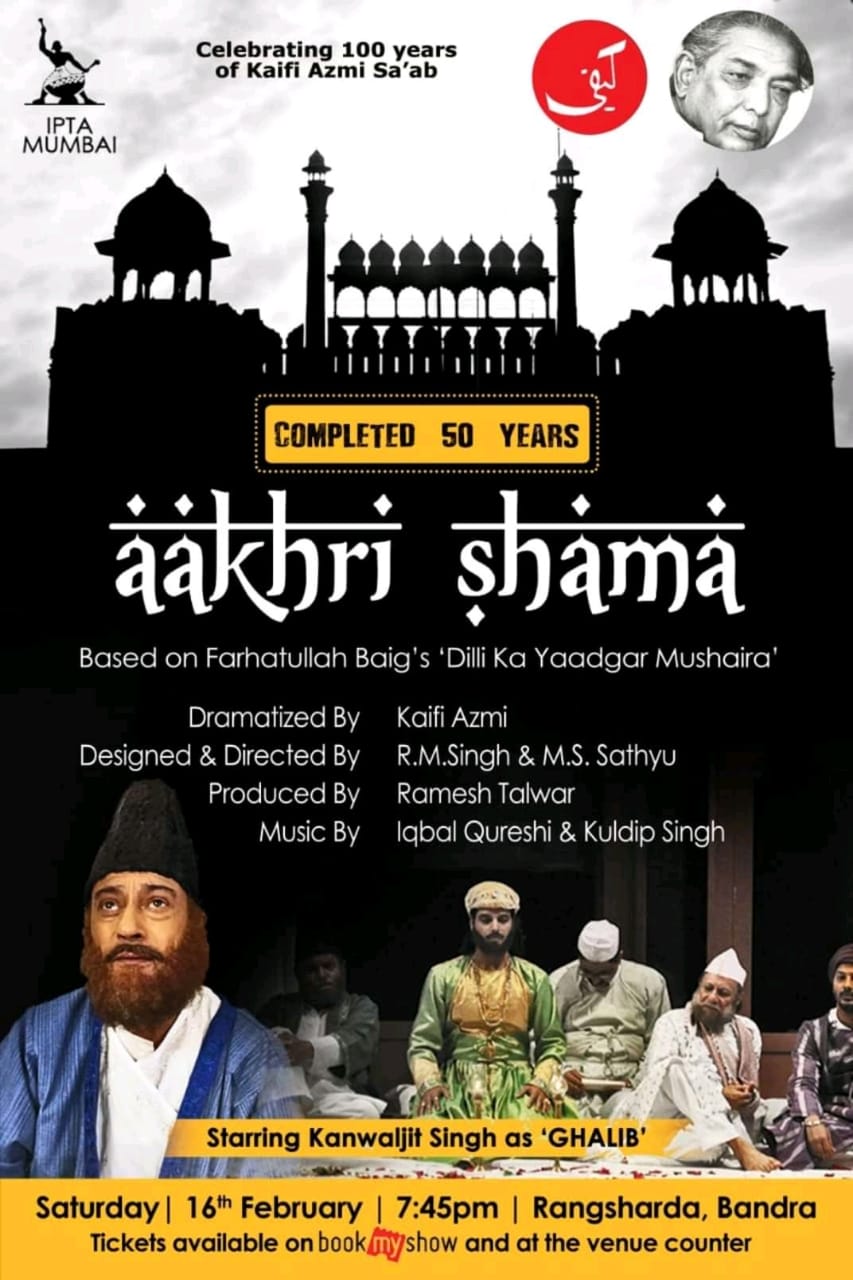 Nostalgia that tugged at the very core of your heart surfaced on 16 February 2019 at the Rang Sharda auditorium, where I witnessed a show of the play Aakhri Shama (Last Candle), staged by the Indian People's Theatre Association (IPTA)'s Mumbai unit. With this show, the play completed a mind-boggling 50 years, having been first staged at the Red Fort, Delhi's Deevaan-e-Aam (public hall), in 1969. That was to mark the 100th death anniversary of poet Mirza 'Ghalib', also known by his earlier nom de plume of 'Asad' and 'Mirza Nausha'.
Barring one or two veterans, who are still around and active, almost the entire cast was new. And the star of the stars was Kanwaljit Singh, the evergreen film actor who looks much younger than his age, making his stage debut. An alumnus of the Film and Television Institute of India and popular for his screen and small screen appearances, Singh has always been in love with the Urdu language. So, when Shabana Azmi approached him to don the garb of arguably Urdu language's greatest philosopher-poet Mirza Asadullah Khan 'Ghalib', he did say yes, but with some trepidation. After the show, he confessed that he had now been bitten by the drama bug and will continue to work in the medium. Incidentally, having known Kanwaljit for decades, had I been approached to suggest a name for this role, my choice would also have been Kanwaljit.
It is the 100th birth anniversary of Urdu poet and film lyricist Kaifi Azmi, who dramatised the play from a historic fiction work written by Farhatullah Baig, and a commemorative trophy was presented to his daughter, actress Shabana Azmi. Based on Baig's Dilli ka Yaadgaar Mushaira (The Memorable Poets' Gathering/Symposium of Delhi), Aakhri Shama is directed by M.S. Sathyu and the musical score is by late Iqbal Qureishi and Kuldip Singh. Singh doubles up (or trebles up) on stage as a faqeer and a poet too.
The play, while delving into the life and times of Ghalib, highlights the terrible state of affairs in the Delhi of 1857, when rebellion, retaliation and epidemics wreaked havoc. Within this milieu, it introduces its characters, one by one, in a build-up to the mushaira. The mushaira would be the last of its kind under the patronage of the Mughal Court, which, till then, had a tradition of hosting an annual mushaira at the Red Fort. In the circumstances that prevailed in 1857, it was evident that the mushaira could not take place. But there was one determined person named Maulvi Karimuddin, a resident of Panipat who had set up a printing press in Delhi, and who went from pillar to post to organise this mushaira. In a mushaira, it is customary to place a bowl with a lit candle in front of the poet whose turn it was to recite. Since it was to be the last mushaira, and BahadurShah Zafar was to be the last Mughal Emperor, the title Aakhri Shama, is quite apt.
Three stalwarts were represented through their voices: the original 'Ghalib' Balraj Sahni, Kaifi Azmi as the narrator and Shaukat Kaifi as an off screen voice. All three were sorely missed. Ramesh Talwar, who had done the role of Karimuddin in the first show, reprised the role, a full 50 years later. Also from the original cast was Kuldip Singh, who was brought into the theatre group by Ramesh. Some interesting nuggets: It was so cold in Delhi on the day of the show that Kuldip Singh guzzled down a whole bottle of brandy and hid behind a cloth bundle just before the show was to start. Ramesh, somehow, found him and dragged him back-stage. Meanwhile, Balraj Sahni kept searching for his bottle of brandy, without luck. In another incident, a poet character, who is also a wrestler in the play, failed to turn-up for one of the shows, and none other than Kaifi Azmi stepped in to fill that slot. Kaifi's wife Shaukat has barely two lines in the play, spoken off-screen, yet she travelled in the IIIrd class compartments of trains, along with the troupe, to wherever they performed. Such was her dedication that she would practice those lines for days on end, during her morning walks. The lines being corny and nasty, passers-by often thought that this woman had lost her mind.
Mementos were handed to all those actors and team-members who had been with the play off and on, over the years. I missed Bashir Khan, from the old days, who lives some 50 km away from the venue, and finds it difficult to travel long distances, on account of paralysis. So, I called him on phone, and was happy to learn that Ramesh Talwar had spoken to him earlier in the day.
Ramesh Talwar, a known film director and committed IPTA member, held the play together, as Karimuddin, also providing much-needed comic relief. Performances of the other members of the cast were inconsistent, with pronunciation being a problem for many. A fact that worked well for the play is that some Indian poets recite their verses in tune, called tarannum much like regular songs, which becomes an effective device to break the monotony of dialogue. A magical feel permeated the hall every time the director faded out the lights abruptly to the accompaniment of a music piece, and narrowed the illumination down to a square, with only the frozen bust of Ghalib being visible, while a cryptic couplet from Ghalib's poetry was played as voice-over, not in Kanwaljit's voice, but in Balraj Sahni's.
There were some shortcomings, but where else will you find the galaxy of 'Ghalib', 'Daagh', 'Momin', 'Zauq' and 'Zafar' on the same stage. Among those who were in the original cast and are now no more are names like Manmohan Krishna, Nitin Sethi, Mack Mohan and Yunus Parwez. Krishna's wife, Sethi's daughter and Mohan's niece, actress Raveena Tandon, represented the departed souls. Parwez's son collected his father's memento. Also sorely missed was A.K. Hangal, who had played Zauq in 1969. M.S. Sathyu was present and was felicitated on stage.
I saw the play when it was first staged in Mumbai, 50 years ago. While I do not recall who was seated on my right on that occasion, at this show I had cricketer-commentator Saba Karim at that position. He enjoyed himself too.
Happy Anniversary, KaifiSaahab, Happy Anniversary, Aakhri Shama.
Source: https://www.filmfestivals.com/blog/siraj_syed/aakhri_shama_completes_50_years_film_actor_kanwaljit_singh_plays_ghalib